Contactless Card Technology
Did you recently get a contactless card from Landmark? Here is how it works.
Look
Check for the Contactless Symbol on the store's checkout terminal.
Tap
When prompted, bring your card within a few inches of the Contactless Symbol on the checkout terminal.
Go
Your payment is securely processed in seconds. Once your payment is confirmed, you're good to go!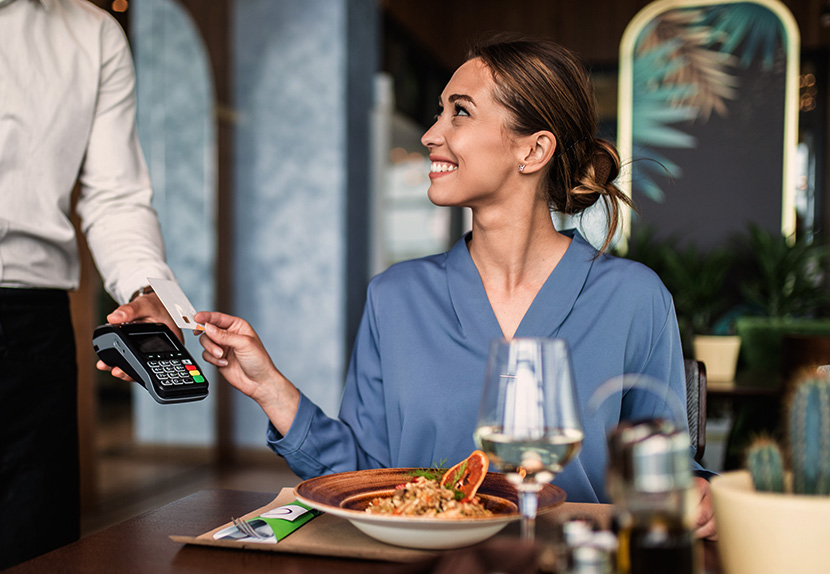 It's a safe and easy way to pay!
It's convenient—A simple tap is all it takes.
It's secure—Each tap to pay transaction generates a one-time code.
It's touch-free—Reduce your contact with high-touch surfaces.
The Contactless Symbol and Contactless Indicator are trademarks owned by and used with permission of EMVCo, LLC. ©2023. Visa Inc. All Rights Reserved.
Chip Card Technology
Get big protection in a tiny chip. Built-in chip technology gives you greater fraud protection when you use your card at a chip-activated terminal. It's not only secure, it's also easy to use.
Enhanced Fraud Protection

When you use your card at a chip-activated terminal, the embedded chip generates a one-time use code. This code is virtually impossible to counterfeit and help reduce in-store fraud.

Easy to Use

Simply swipe your card like you do today. However, if a chip-activated terminal is available, insert your card instead and follow the prompts. See steps below.

Global Acceptance

Whether you check out using chip technology or swipe your card, you can pay wherever Visa® Credit Cards are accepted.

How to use a chip card:
Insert Card

Insert the chip end of your card into the chip activated terminal with the chip facing up.

Follow Prompts

Keep your card in the terminal throughout the transaction and follow the prompts on screen.

Remove Card

Remove your card when prompted.
If you accept the terms and conditions AND you shared login credentials with your joint account owner, spouse, friend or family member, that person will be able to view your credit score and report information
Mobile Payment
Make everyday purchases with your mobile device.
How it works:
Add your Landmark debit or credit card to your device
Use your device to make purchases with your choice of Landmark card
Transactions are secure and card details are never stored on the device
Payment is as simple as a touch
Depending on your device, there are different ways to set up mobile payments. Get instructions to set up Mobile Payment on your device:
Security is our top priority:
When adding your Landmark card to your Apple, Android, Google or Samsung device for the first time, you may be required to authorize your card. After adding your card, it may prompt you to call to authorize. Please call 844-646-5467.