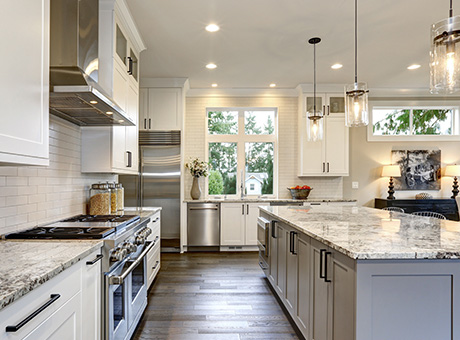 Start the Search for Your New Home
Once you've made your decision to move, it's time to gather your team. You'll need an experienced real estate agent to make the home shopping process run smoothly and a Mortgage Loan Officer to help you determine your borrowing budget and a loan option that best meets your needs.
Hot tip! Apply for a pre-approval before home shopping. It's a great advantage to have when you find your new home and are ready to make an offer.
Get Pre-approved online
Pick the Right Mortgage Option for You
Fixed Rate Mortgage
Make the same payment every month over a fixed term.
Down payment can be as low as 3%
$550 Application Fee1
View Fixed Rates
Adjustable Rate Mortgage (ARM)
Pay a lower monthly payment than a fixed rate mortgage for the initial term. After the initial term, the rate will change once every year based on the current market at the time.
Down payment can be as low as 5%
View ARM Rates
Helpful Mortgage Resources
Applying for a Mortgage with Landmark
It's easy to apply for your loan online! All you have to do is answer a few simple questions about yourself, your property, income, debts and assets. When we process your loan, we verify the information you've provided us on your loan application. We will request minimal documentation to verify assets and income. (Note: You don't need to fill out another online application if your Landmark pre-approval is still valid.)
After applying, a Landmark Mortgage Loan Officer will meet with you personally or over the phone to accurately determine the right loan amount and mortgage product that fits your financial needs. You and the Loan Officer will decide the best option based on your monthly income, loan amount, down payment amount and how long you're planning to stay in your new home.
Completing the Mortgage Process
During the processing of your application, we will review the value of the property along with any other final documentation needed before issuing a final approval and setting up the closing.
Home Loan FAQs
If you are eligible for a VA loan, you may qualify for a 0% down payment. Please contact a Landmark

Mortgage Loan Officer

for more information.

Yes, we do offer jumbo loans.

To find out more information, including rates, please contact a

Mortgage Loan Officer

.

Your mortgage application can be accessed by logging into the

borrower portal

.

A 15-year mortgage loan would provide a lower interest rate and a reduction in finance charge over the life of the loan. Please note, however, the monthly payment amount might still be higher than with a 30-year mortgage. Please contact a Landmark

Mortgage Loan Officer

directly or

contact us

.

Because interest is paid in years, prepaid interest is interest you pay at closing to cover the period from the date your loan closes to the date your first payment is due.
1 - Non-refundable application fees of $550 are required for single family residences and $650 for residences with 2 or more units.